Online Email Conversion: Convert Your Email Files Into Other File Formats.
In these days communication has become an essential part of our life. There are various means of communication available, which have been changing from the past through the present to the future. Email is one of the best and the most popular means of communication; It is less expensive, quick and efficient than other types of communication. It takes really very less time to be transferred and it can be received by multiple users at a time.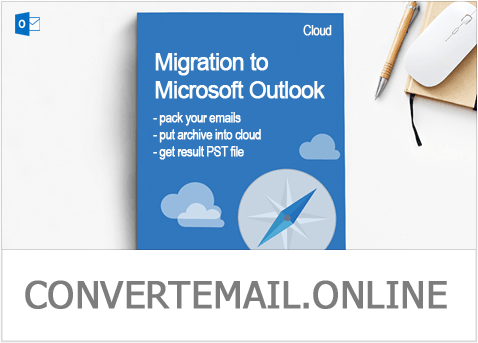 Email conversion
Email conversion is concerned with the conversion of email files from one format to another one. It is a definite need while the users switch between the email clients because each mail client has support for a specific data file format that can't be accessed in another platform.
In these days several email platforms are available for us to use email services, such as Gmail, Yahoo, MSN, Hotmail, Thunderbird, IncrediMail, Mac Mail, Live Mail and many more. But the two most commonly used email applications are Microsoft Outlook Express and Microsoft Outlook.
Microsoft Live Mail:
It is a popular email client, which is available in Internet Explorer (from version 4.0 to 6.0). It is also available for Microsoft Windows, such as Windows 98, ME, 2000, XP and Server 2003. In Windows Vista and Windows 7, it is available as Windows Mail and Windows Live Mail respectively.
It helps us send and receive email messages from other users. It also allows us to store and manage all the email messages and other data items. All the incoming emails are stored in Inbox folder. Other than this there are three other folders: Sent items, Drafts and Outbox. We can add our multiple email accounts in Live Mail.
All that is to be done is to configure the accounts by providing the accounts details like email address, username, password, etc. EML is a file format that is created by Live Mail to store all the email messages.
Microsoft Office Outlook:
Another popular email client is Microsoft Outlook, which is a part of Microsoft Office software suite. It is included in all versions of MS Office, such as: from MS Office 97 to 2016. It is popularly known as personal information manager and mainly used as an email application. Other than email service it has some other features as well, such as calendar, task manager, contact manager, note taking, journal and web browsing.
MS Outlook uses an open file format to store messages, calendar events, and other mail items. This format is called PST (Personal Storage Table), and it is also known as Personal Folder File.
Sometimes this might be possible that we need to open a EML file in MS Outlook or a PST file in Outlook Express or Live Mail. Or we need to convert our EML files to PST format or PST files to EML format.
The reason could be any one of these:
Unfamiliarity with the email platform or email file:
Suppose we are using MS Outlook, but we are not familiar with Live Mail or its EML files. One day we receive a EML file from a friend or a client. We don't know how to open this file or which program is used to open it. We cannot open this file until we have Live Mail installed in our system and we are familiar with it and its functions.
Change in messaging platform:
We are new in an office where we use MS Outlook application. But in the company where we worked earlier, we used Live Mail or Outlook Express. All your crucial and invaluable data is saved in your Outlook Express profile. We want to access our data of Live Mail in MS Outlook profile.
To avoid corruption in MS Outlook:
MS Outlook uses PST file to store email messages and other mail items. This file has a size limitation, i.e., the 2GB limitation for ANSI PST files and 20GB limitation for Unicode PST files. If PST file crosses this size limit, then it may result in corruption or data loss. Sometimes oversized PST files can also affect the performance of MS Outlook.
To save EML files from unexpected corruption:
Sometimes while working on Outlook Express or Live Mail, we may face file corruption. EML files are not immune to corruption therefore, it gets corrupted due to several reasons like virus attacks, sudden cancellation of Outlook Express, hard disk drive failure and many more.
Online email conversion
In all these situations, we need an online email conversion application that can help us convert our email files into Outlook PST format. We can overcome these situations only by converting the file format of our emails. Email conversion cannot be performed manually therefore, we must use advanced online email conversion application.
The online email conversion application converts all the selected email files into other available file formats. All the selected original files will remain unchanged or intact.
The online email conversion application supports all versions of Microsoft Outlook.
How Cloud Email Conversion works:
pack your emails or mailbox files into ZIP archive
put ZIP archive to the cloud using special uploader or online form
confirm your email and wait for the completion
get detailed report and result PST file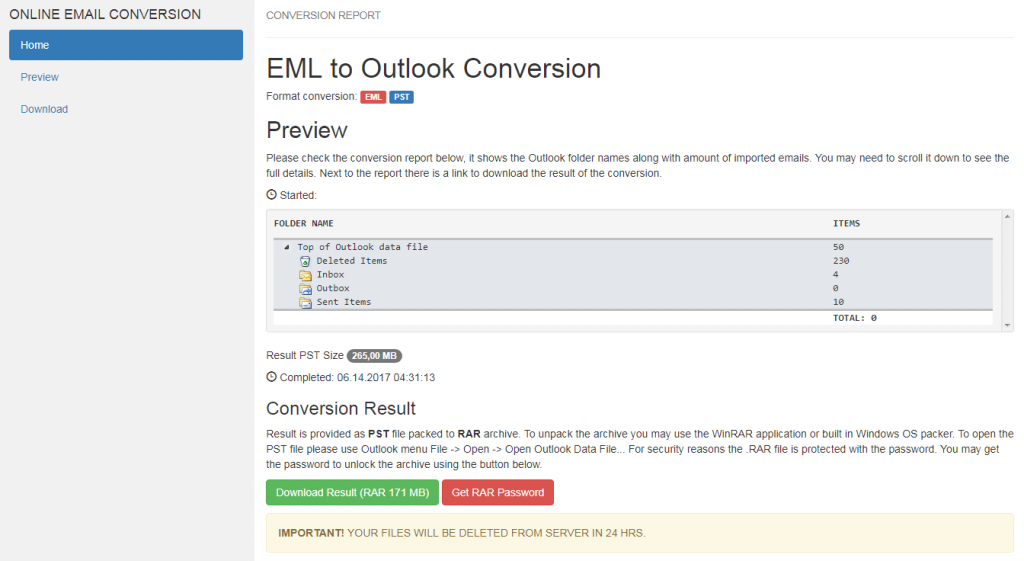 Start your migration to Outlook now
The online email conversion application is an advanced and efficient way to convert multiple types of email files into Outlook PST file format. It supports conversion of EML and MSG into Unicode PST file format. Other formats are also integrated on the long run such as MBOX (Google Takeout and other online services), Thunderbird, IncrediMail and so on.