Step 1: Pack your e-mail database to RAR or ZIP archive
Pack e-mail folder structure into a single RAR or ZIP archive. You can use either the means built into Windows, or download a third-party tool.
Step 2: Submit the archive to the conversion Cloud
Security of upload is guaranteed by our uploader tool and secure SSL connection. Your emails remain protected before, during and after conversion. The uploader tool is digitally signed, free and does not require installation.
Upload archived emails to box.com, dropbox.com or wetransfer.com service and submit the direct download URL using the form below.
Ensure that your email provider is not filtering emails from convertemail.online domain. If the email was already filtered and placed to Spam/Junk email folder, open the web-interface of your email provider such as Gmail.com, open Spam folder, select the email from our service and mark it as "Not Spam".
Step 3: Download e-mails converted to PST
As soon as the Cloud server finishes converting your e-mails to the PST format, you receive a web link to the e-mail box you specified on step 2. The link contains the detailed conversion report and the button to download the result.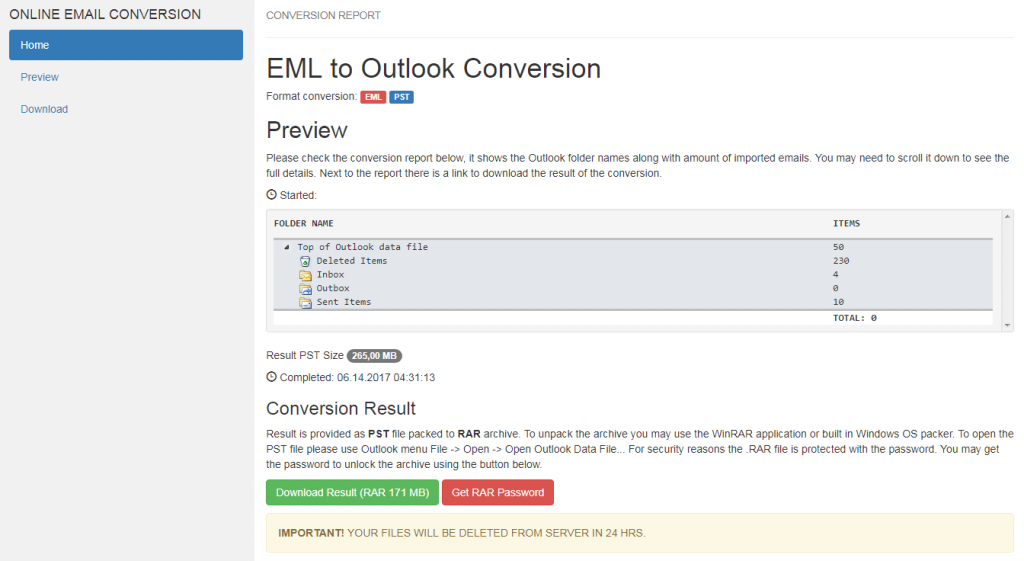 Note that the resulting PST file is packed to the password-protected RAR archive for additional security. Click the "Get RAR password" button to receive the password.
Now, as you received the converted PST file, simply open it in Outlook:
"File > Open > Open Outlook Data File".
Only 4.95 + 1 USD per GB
Get conversion snapshot and decide if you want to pay for the result.
Lowest price on market, you'll never find lower!
---
Have a question? Need help? Don't hesitate to contact us.