It's time to migrate from IncrediMail 2.5 to Outlook with zero hassle
Simple and efficient Cloud Email Conversion Service to convert all your IncrediMail e-mails (even hundreds of thousands of them!) to the PST format native to Microsoft Outlook. ConvertEmail.Online grabs the uploaded IncrediMail message store and automatically transfers all data from within it to a PST file you can then download and open in Outlook. Give it a try!
FREE for mailboxes below 100 MB
Fast, secure and efficient
Supports any size of a mailbox
Accurately transfers e-mails, styles, embedded images and attachments
---
How online conversion from IncrediMail IML to PST works
IML the native mail message formats for the IncrediMail 2.5 email client. Microsoft Outlook cannot read IML format directly, nor can it import email messages from IncrediMail. Unfortunately, IncrediMail also cannot export data to Outlook directly. There are desktop apps to perform such conversion, but installing third-party software is not always the best option. With ConvertEmail.Online you can quickly convert IML files as well as the entire Mail Store to a PST file.
Here is how you can do this:
Pack the Message Store folder to a ZIP archive
What is Message Store? It is a folder where IncrediMail keeps e-mail data: messages, attachments and so on. Often, IncrediMail mail format is referred as *.IML, but this is not exactly so. In fact, the entire folder holds data of user's e-mails and the main email allocation database file MessageStore.db.
To successfully convert IncrediMail messages to Outlook PST, you need to pack the entire Message Store folder within all files and subfolders  to a single ZIP archive.
How to find the Message Store folder?
The default folder for IncrediMail 2.5 data files is:
C:\Users\[Username]\AppData\Local\IM\Identities\[Identity_ID]\Message Store\
OR
C:\Documents and Settings\[Username]\Local Settings\Application Data\IM\Identities\[Identity_ID]\Message Store\
Message Store folder is marked red on following picture: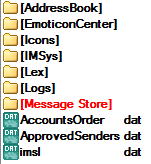 Minimum data for IncrediMail to PST conversion
If you want to minimize the amount of data, you may open the Message Store folder and pack only the database file called "MessageStore.db" and two folders called "Messages" and "Attachments". Attachments folder may be ignored in case if you don't need attachments to be imported together messages. In this case please be ready to see the "missing attachment" notes in your imported emails.

Upload the ZIP archive to the cloud conversion service
To upload the packed Message Store of IncrediMail, please go to this page and select an appropriate uploading method. Note that regardless of the method you select, you will need to provide a working e-mail address and verify it. Why do we ask for an e-mail address? Because we value your security and privacy very high, so the result of the conversion will be available only to you via the link e-mailed to the address you specify. Also, the link will expire in 24 hours for extra protection.
Convert IML to PST
When uploading is done, the service starts converting the IncrediMail messages to the PST format. The process is not instant but is still very fast. Upon completion, you will receive a link to your e-mail address. Follow this link to open the conversion report:
Here, on the preview you can see the contents of your mail data. Below the report there are two buttons:
"Download Result" and "Get RAR password".
"Password? What password?"
Well, for security reasons, we compress the resulting PST file to a password-protected RAR archive. As you know, RAR is extremely tough when it comes to password cracking, so your personal data or business correspondence remains protected. The password to this RAR is provided only to you.
Download the converted PST file
Click the "Download Result" button on the report page to download the RAR archive containing your converted Outlook PST file. To get the password, click the "Get RAR password" button.
Note: if the result of conversion of IncrediMail to Outlook PST is less than 100 MB, you can get the RAR password for free!
As you see, converting IncrediMail mailbox to PST file is trivial when you use a cloud service. Act now! Remember, mailboxes below 100 MB are free to convert.