How to export messages from Gmail to Outlook?
With just a few clicks effortlessly transfer all your e-mails from your Gmail online account to Microsoft Outlook PST file. The cloud conversion service ConvertEmail.Online makes the task as simple as possible provided you don't need to install anything to convert your Gmail correspondence to PST.
Fast and secure
Works with any amount of emails
Purely online, no third-part software is required
Convert up to 100MB for FREE
Convert Gmail to Outlook online
---
Transferring mail from Gmail to Outlook PST, a definitive guide
Google provides a decent mail service with a lot of convenient options available as standard: instant search, grouping and labelling messages, nice and powerful e-mail composer. But sometimes you just need more. 'More' as in 'more than you thought you will ever need'. Of course, we are talking about Microsoft Outlook, a supreme email client and powerful personal, contacts, tasks and calendar manager.
Below is a guide on migrating from the Gmail service to Outlook by converting e-mails from your webmail to the PST format native for Outlook.
Step 1: Take out your e-mails from Gmail
For the sake of security, ConvertEmail.Online cannot work with Gmail directly. This means that before you can convert messages from Gmail to PST you need to first export them from Gmail. Luckiliy, you don't need to reinvent the wheel to do this, as Google already offers a viable tool – Google Takeout: https://takeout.google.com/
Google Takeout allows you to export data from a long list of supported Google services including Gmail.
First, click "Select none" to disable all services. We only need emails for now.
Then, scroll down and enable Mail in the list: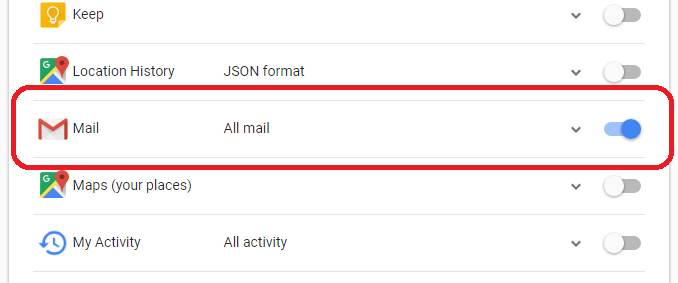 Click Next.
On the next page you can select the output format (the default is .zip) and the way you will receive the file: e-mail or Google Drive.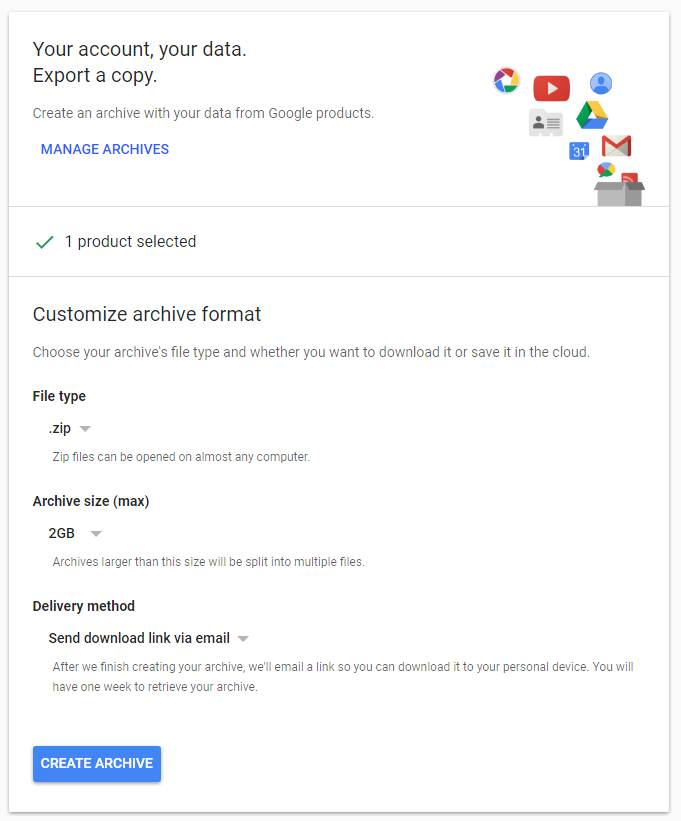 Click "Create Archive" and that's basically it. The zipped file you download from Google Takeout will contain all your Gmail correspondence. Now, you need to convert these emails to PST.
Step 2: Upload Gmail messages ZIP to the cloud conversion service
Cloud Email Conversion Service needs to know what messages you want to convert, so please upload them as a ZIP archive to the cloud service. Open this page and select one of available uploading methods there.
Important notice #1: uploading a file requires you to sign up and provide a working e-mail address. This e-mail will receive a link to the conversion report page where you can download the converted PST file. This is required for security reasons and to prevent interception of your personal information by third-parties.
Step 3: Convert Gmail to PST using the service
Ok, so you've uploaded the zipped gmail messages and now can proceed to conversion. Depending on the size of the email archive the conversion process can take a while. However, the process is 100% automatic, so you don't need to keep the browser window open. Just start the process and let ConvertEmail.Online perform its job. All your e-mails and attachments will be carefully transferred to a PST file.
Important notice #2: PST files smaller than 100 MB are converted for free!
Final step: Download the conversion result
As soon as conversion finishes, you will receive a message to the specified e-mail address that contains a link to the conversion report. Click the link to open the report in your browser.
Important notice #3: the conversion report is available only to you and only for 24 hours.
In the report you can see the preview of contents of the uploaded emails and two buttons: Download PST and Get RAR password.
The first button allows you to download the result of conversion from Gmail to PST to your computer. The result is packed to a password-protected RAR archive. As we said above, this download link is only active for 24 hours. All of this is for security reasons, as we value your privacy very high and make everything to prevent unsolicited access to your data by anyone including ourselves.
The second button provides you a password to unpack the password-protected RAR file containing your converted PST.
Important notice #4: the password is provided to you for free as long as the size of the PST file (not the compressed RAR) is below 100 MB. For the files larger than that, the price is $4.95 plus $1 per 1 GB of data. For instance, if the converted PST file is 4.5GBs, the password to unpack the RAR with that PST will cost $4.95+$4 = $8.95. You will receive the password immediately after purchase.