An effortless way to convert even huge Thunderbird mailboxes to a PST file.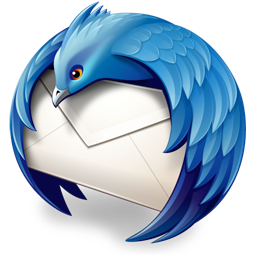 Why install anything if you can convert the whole Thunderbird mailbox (*.MSF) to a PST file directly in the cloud? With Cloud Email Conversion Service you safely and automatically transfer all e-mails and attachments from Mozilla Thunderbird to the Outlook PST format. Browse for mailbox file, upload it to the Cloud Conversion Service, and enjoy prompt and reliable conversion to PST packed into a secure RAR archive. Migrating to Outlook has never been easier! Here is why:
100% automatic conversion of Thunderbird mailboxes to Outlook PST
Market-leading accuracy and performance
Fixes encodings and erroneous files
Supports any size of a mailbox
Resulting PST up to 100 MB is FREE!
Convert Thunderbird mailbox to Outlook PST | Learn more
---
Why convert *.msf mailboxes to PST online?
Here are a few reasons why ConvertEmail.Online is a definite solution to convert Thunderbird emails to the  *.pst format supported by Microsoft Outlook.
First of all, a cloud service means you don't need to install anything on your computer. You don't need any third-party software, nor do you need even Outlook or Thunderbird. All you need is Thunderbird mailbox files. This means you can convert anywhere, even on a computer you don't actually own!
Second, ConvertEmail.Online is a secure automatic cloud service. This means the contents of your mailboxes remain safe from the moment you start uploading it via a secure SSL connection to the final result of conversion – a ready-to-use PST file – which is packed into a password-protected RAR archive which is known for being extra hack-proof. Also, the fact that conversion is automatic means nobody ever looks at your data.
Finally, you can use the service for free, as long as the result of conversion lies below the 100 MB threshold.
Convert Thunderbird mailbox to Outlook PST | Learn more
---
Here is how the conversion works:
Gather Thunderbird mailbox files you want to convert to the Outlook mailbox. Don't know where to find those?
Here is a brief instruction:
Mozilla Thunderbird stores e-mails as files without extensions, in the mailbox format. The *.MSF file is the index files and it does not contain any actual e-mails. So, to convert a Thunderbird mailbox to PST you need the file without the extension, not the MSF one.
The path to mailboxes may vary depending on Thunderbird version and settings. The easiest way to find where e-mails are, is to open the Help | Troubleshooting menu and look for the Profile Folder value.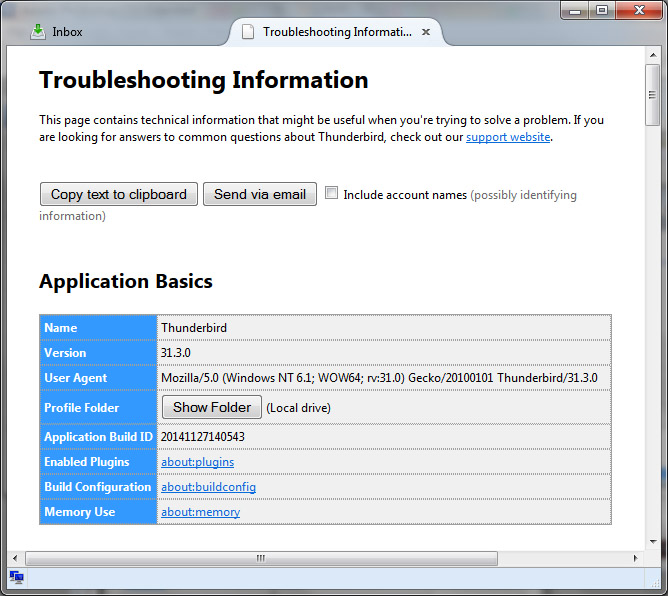 Typical path for Thunderbird mailboxes is:
C:\Documents and Settings\%USERPROFILE%\Application Data\Thunderbird\Profiles\XXXXXXXX.default\Mail\
* – Where %USERPROFILE% is your Windows user name, and 'X' are random characters.
Inside the folder you will find e-mail account folders and consequently in these folders you will find files with actual messages. For example, 'Inbox', 'Sent', 'Draft' and so on. Once again: *.MSF files are just indices, not messages. You need the file with the same name as the MSF, but without the extension.
Thunderbird to Outlook PST Conversion:
You will need to pack those files to a single ZIP file and then transfer it to the cloud service. You can transfer the mailbox here using one of the available methods.

Before you can start transferring you should confirm your e-mail address. This e-mail address will receive a link to the summary of the conversion where you can download the archived PST file. Important: please provide a working e-mail address here and make sure you confirmed it by clicking the confirmation link in the message e-mailed to you shortly after you register.

As soon as the packed Thunderbird mailbox finishes uploading, the service starts automatic conversion. Note that your e-mails are completely secure and are never disclosed during the conversion to anyone, the whole process is 100% automatic.

Once the conversion is done, a message is sent to your e-mail containing a link to the converted file and the conversion report. There you can see two buttons. Click the "Download Result

" button to download the RAR file with packed results of conversion to PST. Click the "

Get RAR password

" to get the password to open the RAR archive. Converting up to 100 MB is free of charge. If you need to convert larger Thunderbird mailboxes, you need to purchase the password to the RAR archive with the converted file.